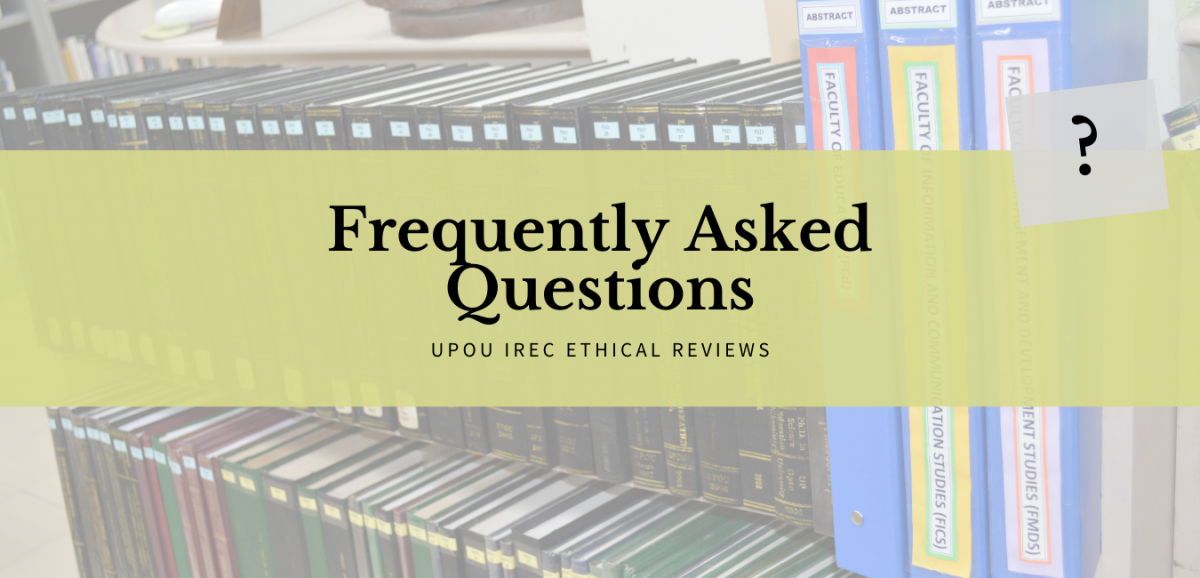 Q: Which papers are accepted
for ethical review?
A: UPOU IREC review all types of research studies with minimal-risks.
Q: Who are eligible to submit
papers for review?
A: We review research studies from
1. Bonafide students of UP Open University
2. Faculty members of UP Open University
3. REPS and Admin staff of UP Open University, and
4. UPOU Office of Gender Concerns
Q: How can I apply my study for an initial review?
A: One must complete the requirements and email them at [email protected].
A short video on initial submission process can be viewed at our website
For students
For Faculty, Reps, and Admin Staff
Q: What are the forms needed for initial resubmission?
A: The forms required can be viewed at https://irec.upou.edu.ph/requirements/
Please add an underscore and the primary investigator's Surname in the filenames (example: Juan_UPOU IREC Form 6(A) Application for Ethics Review of a New Protocol) for proper identification and filing.
Q: Do I need to submit any hard copies of the requirements?
A: No. As part of our adaptation of OVPAA protocols for the duration of the health emergency on paperless transactions, all submissions and communications are conducted online through our email [email protected].
Q: When can we submit our requirements for ethical review?
A: You may submit them during office hours, Mondays to Fridays, 8:00 am to 5:00. However, please be guided that since we conduct our monthly meeting every 1st Monday of the month, we encourage you to submit your requirements on or before 3rd Monday to be included in the upcoming batch of papers for review.
Q: When and how do I know the results?
A: The ethical review decisions are released via email within four to six weeks.
Q: What happens if the result says "Modification Required" or "Deferred"?
A: You will be allowed to resubmit your manuscript, informed consent, and resubmission form 30 days from the release of decision.
If we have not received your resubmission within the said date, your protocol application shall be terminated.
Q: Can I still submit the research protocol beyond the resubmission due date?
A: Yes, but the study protocol shall undergo the initial submission process again.
Q: Do you accept submissions for reviews from other UP CUs?
A: Our guidelines and policies for reviewing researches outside UPOU are still undergoing evaluation. We will keep everyone posted once we can conduct external reviews.
Q: How much do I have to pay for an ethical review?
A: We are currently conducting ethical reviews for students for free. However, we have ethical review fees for UPOU faculty, REPS, and administrative staff.